THE ARTISTS POINT - BED, BREAKFAST & PHOTO TOURS
A family friendly Bed & Breakfast (B&B) with private photo tour options, offering beautiful ocean views and individual wildlife tours.
The Bed & Breakfast accommodation is located close to Port McNeill, Telegraph Cove and Port Hardy on the northern part of Vancouver Island, Traditional Territories of the Kwakwaka'wakw People in British Columbia, Canada.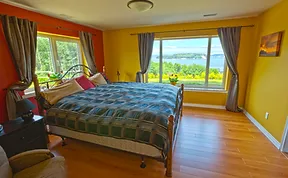 2 family friendly suites are available, with beautiful ocean views and optional additional bed rooms.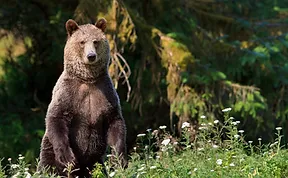 Not only for photographers. These are individual private tours tailored to your needs. Exclusively to my guests.
Rolf Hicker is a full time professional travel, nature and wildlife photographer for over 30 years.
The Artists Point B&B is a unique getaway and bed and breakfast accommodation, ideal for families, near Port McNeill, Telegraph Cove and Port Hardy, for those who have a passion for nature (and photography) and desire to experience the majestic landscape and wilderness of the Northern coastal region of Vancouver Island in British Columbia. Rolf likes it private, individual and flexible, the main reasons he only offer two suites (great for families) and a maximum of 4 participants on his photo tours.
Your host, Rolf Hicker, is a world renowned professional travel, nature and wildlife photographer for over 30 years. His individual and private photo tours and photography workshops will introduce you to interesting and beautiful places in the area. No photography skills are needed. The tours are the highlight for many of his B&B visitors.
Whether you want to document your trip using your artistic skills or simply relax in the tranquility of the setting, let Artists Point B&B help you in your quest.
Artists Point B&B Bed & Breakfast is nestled on 2.3 acres in the rural community of Hyde Creek near Port McNeill and Telegraph Cove and only 35 min away from Port Hardy. Our two private guest suites overlooking the magnificent Coast Mountain Range with it's snow capped peaks and lush coniferous forest offers stunning ocean views of Broughton Strait, gateway to the famed Broughton Archipelago and the Great Bear Rainforest. In May/June is hummingbird season and there is a good chance that you might get buzzed by those beautiful birds.
Your host, Rolf Hicker strives to offer you a calm and relaxed atmosphere with the B&B guest suite with as little or much privacy as you want. Feel free to help me in the garden or join me for an outside evening barbecue. While I'm always trying to be here for my guests, it is always your choice how much privacy you want.  The ocean is just down the hill and a short 3-minute walk will take you to a tranquil beach where you may chance upon an eagle fishing, a family of Orca's on their way to their rubbing beach, dolphins playing a game of catch-me-if-you-can or seals popping up like curious onlookers.
Because we live so close to nature we are very aware of our impact on our surroundings. Taking care of the environment is important to us and we are continually working toward minimizing our effect on our surroundings. 
Let The Artists Point Bed & Breakfast be your private base for your stay on North Vancouver Island near Port McNeill and Telegraph Cove. The Bed & Breakfast is only 8 minutes from the historic logging town of Port McNeill and 35 minutes from the Port Hardy airport and the Port Hardy ferry terminal, the southern terminus for the route to Prince Rupert. 20 minutes to the south will take you to the charming boardwalk community of Telegraph Cove. 
We also specialize in private custom photo tours for guests without cameras but also for amateur and professional photographers. If you join us on a private custom photo tour we will plan the days especially for you based on your photographic requests. You will be in expert hands with your guide, Rolf Hicker, who is a world-renowned nature, wildlife and travel photographer for over 30 years. However some people just come on the tour to enjoy the wildlife and the amazing scenery we have up here on Northern Vancouver Island.
This is what our guests are saying:
"Our family of 3 stayed here for 4 nights and didn't want to leave."
"My honey and I spent a couple of nights and one fun adventure filled day of wildlife photo tour with Rolf. By far, it was the best part of our sojourn to Vancouver Island."
"Our experience met and exceeded our expectations in every way!"